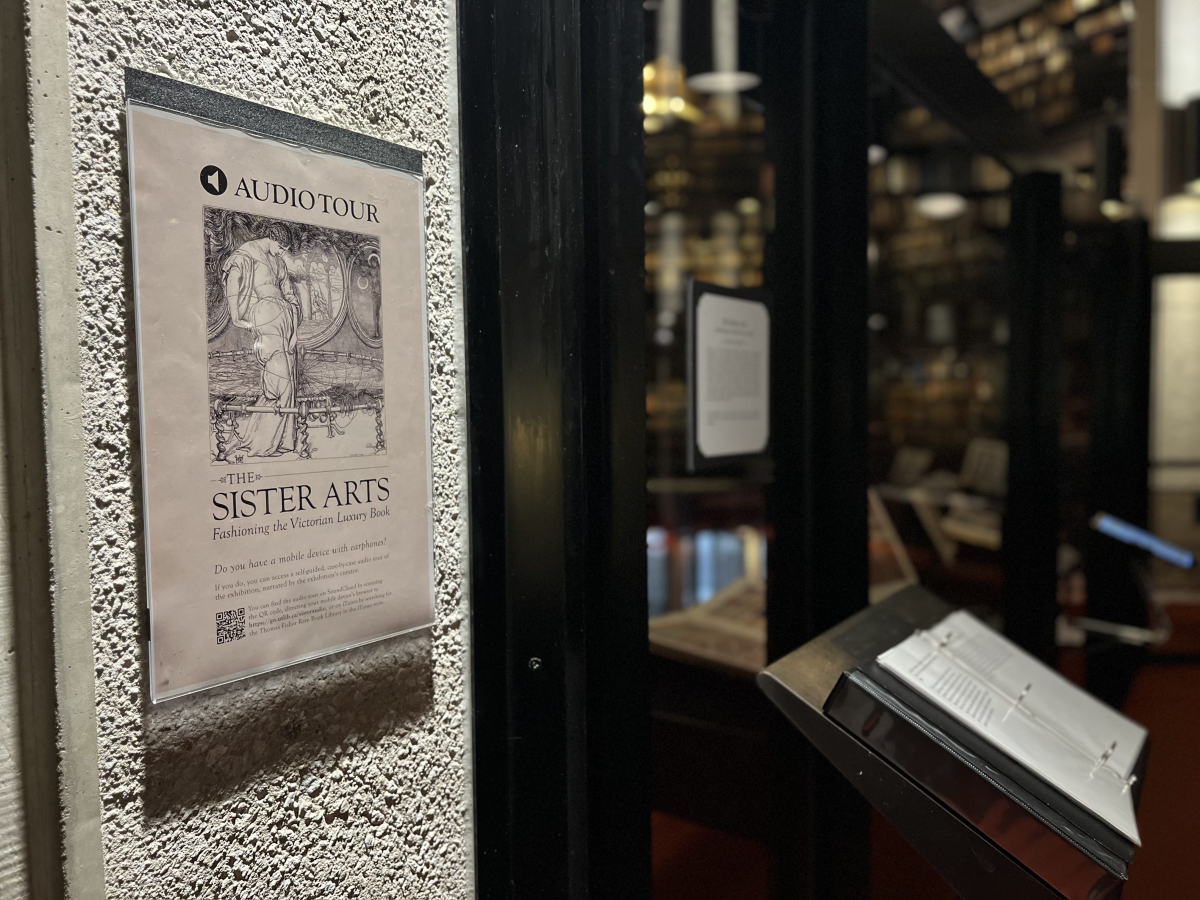 The Thomas Fisher Rare Book Library is pleased to feature the exhibition The Sister Arts: Fashioning the Victorian Luxury Book. This exhibition explores the ways that luxury book manufacture came to provide roles for women in the book arts, initiating a sisterhood of illustrators, illuminators, engravers, designers, compositors, and even publishers. The manufacture of these beautiful books provided women with the opportunity to adopt a range of professional roles in the book world.

This exhibition was curated by Holly Forsythe Paul, Ph.D., M.I., former Hilary Nicholls Fellow at the Fisher Library.  Holly recently sat down with U of T Libraries to talk about this exciting feminist exhibit. 
---
How did you come to curate this exhibition?
Before I began my studies in librarianship, I taught English and writing at the University of Toronto with a specialization in Victorian literature. When I took courses in book history or rare books, I was always eager to learn about the print trades in Victorian England, but those courses tend to focus on the hand press period and so they typically stop at 1900. I wanted to design an exhibition around developing technologies in the Victorian book trades because I felt that it would fill that gap, and might even encourage instructors to use the Fisher's collections to extend the scope of their course coverage.
As the Hilary Nicholls Fellow at the Fisher Library, I was aware of some visually compelling examples that I could present in my proposal, and persuaded the exhibition committee that there was a wide range of materials in the Fisher collections that hadn't been displayed for some time that could tell an interesting story. Once I began my research, and discovered some remarkable books that had been designed by women, the project began to take its focus. In the end, I have been able to tell a story about the ways that women influenced the design of luxury books. First, women served as the intended audience of gift books. Later, because of instruction manuals on the book arts, increasing access to gender-segregated arts instruction, and complex professional networks, women gradually entered the printing professions as illustrators, illuminators, engravers, binding designers, and even publishers. 
What stands out about this time period? Do you think this was a feminist movement or laid the foundation for modern women in any way?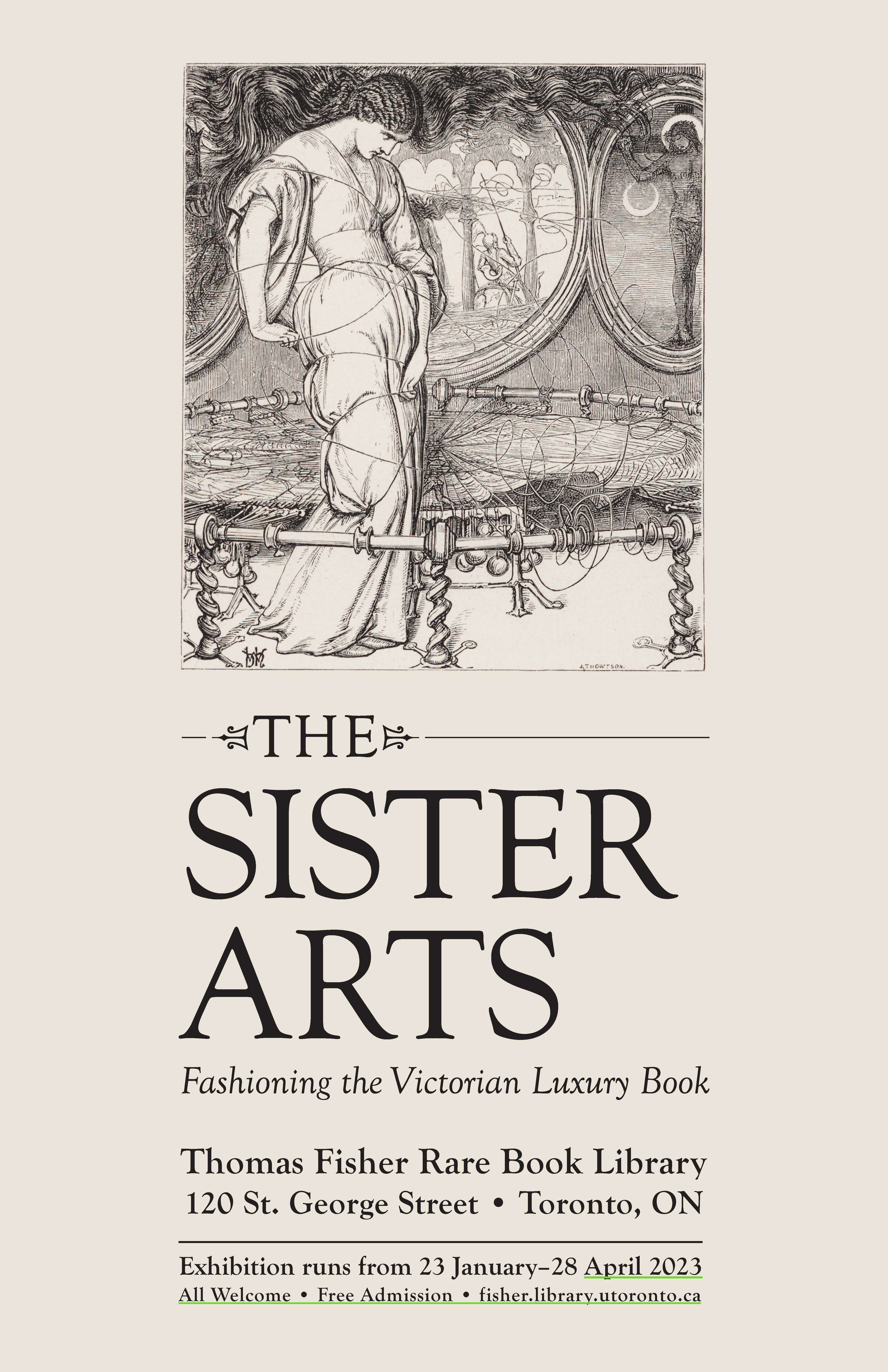 The wonderful thing about the Victorian period is that it's far enough away that we can see it from the outside and analyze it. At the same time, it's close enough to our own period that we can almost always trace personal details about the people involved in the book trades. In this era, it's possible to connect a study of the material history of the books themselves with socio-cultural history, economic history, or intellectual history in a way that feels vitally connected to our own era. So, it's possible to find census data about an obscure woman illustrator, locate information about her living conditions and career, and place that information against changes in education, union rules, or legal privileges. I think there's a great deal of potential for historical scholars to find inspiration in these books, as well as book historians, art historians, or literary scholars.
I do think that the increasing role of women in industries like the printing trades is connected to the emergence of feminism. Some women who established careers in the book trades were actively involved in the emerging women's movement. Emily Faithfull started a press specifically as a way to provide work for women as compositors because they were blacklisted by guilds like the London Society of Compositors. Elizabeth Corbet Yeats became a publisher to provide a means of employment for girls. Clemence Housman was a very successful wood engraver who was actively involved in the Suffragist movement, and even went to jail for refusing to pay taxes as a form of peaceful protest of her disenfranchised status.
It's clear that the early woman's movement was very much concerned with human rights, and the right to work was often a matter of survival.. 
What is the piece that stand out to you most from the collection?
There are a lot of visually stunning pieces in the exhibition, but my favourite is probably The Alphabet of Wild Flowers, an 1857 manuscript illuminated by Lady Louisa Strange. Lady Strange was an impoverished widow. She had been married to a judge and lived a life of privilege until his death, but was forced to rely on her artistic talents to supplement her income during her long widowhood. Because of her social position, it would have been embarrassing and damaging to her children's prospects if people had known about her financial difficulties. She made money as an uncredited (anonymous) illustrator or by doing bespoke work as a manuscript illuminator. The Alphabet of Wild Flowers was commissioned by a woman as a gift for her ten-year-old daughter, and traces the letters of the alphabet through the language of flowers. It's a piece that was done near the end of Lady Strange's career and really shows the extent of her talents. It's highly accomplished, with beautiful floral imagery, original borders, elaborate initials, and very legible lettering. We've displayed the manuscript at the "P-Q" page, with illustrations of the poppy and quercus, in honour of the University of Toronto's emblematic oak tree on our coat of arms.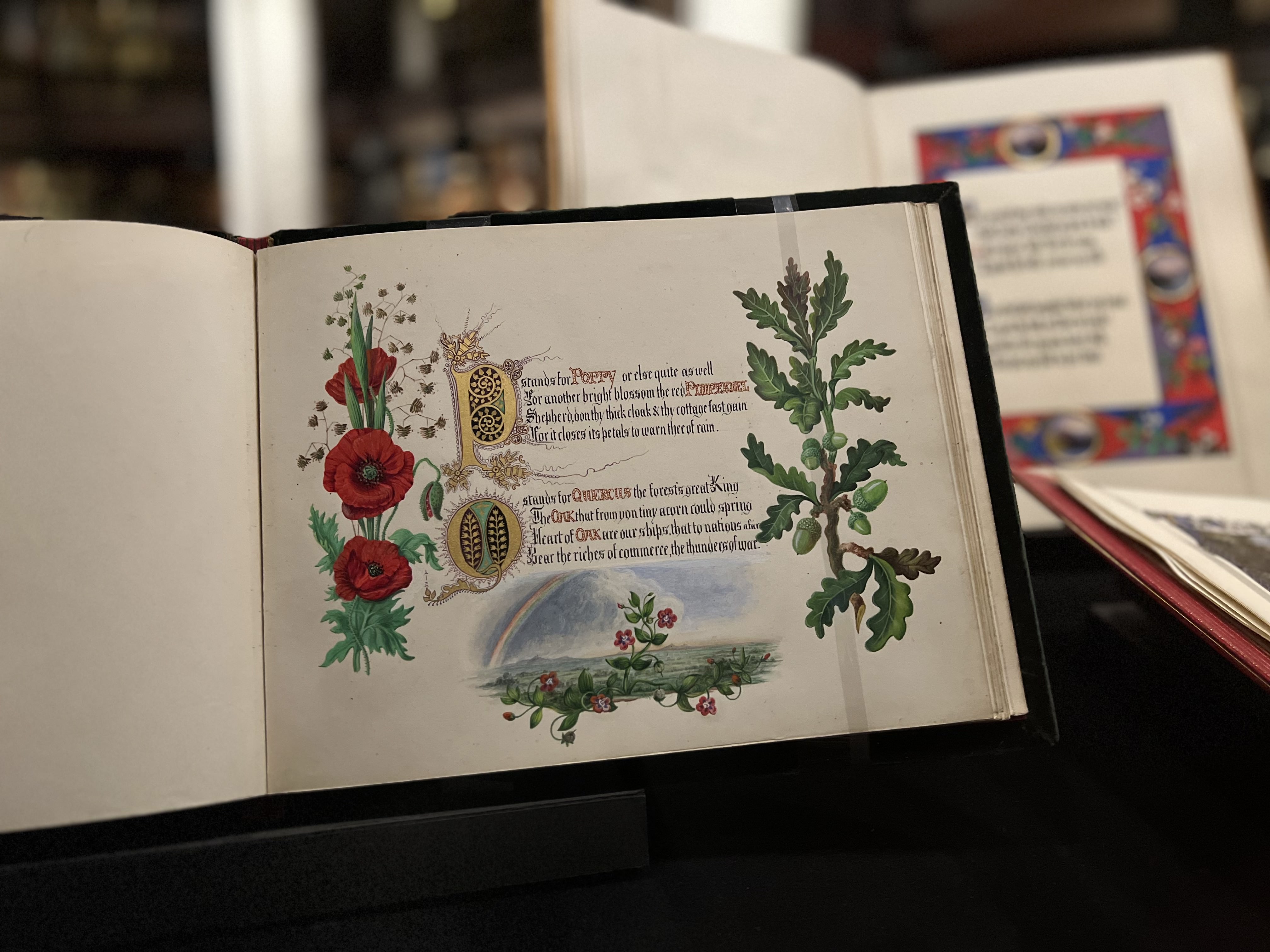 What would you like people to take away from this exhibit?  
I really hope that researchers are inspired to explore the Fisher Library's vast collections of Victorian materials to trace the stories there. I hope that instructors might be motivated to connect these books to their classes on book history, art history, and literature. But, most of all, I'd like these books to connect with the more casual visitor: I wanted the exhibition to be hopeful and I'm so glad to give people something really beautiful to look at, that's open to the public, free of charge, and accessible to anyone at any activity level. For me, there's a really celebratory feeling that we're able to have events like exhibitions in our public spaces again, after the pandemic shutdown. I find beautiful books to be very affirming in their own right—humans can't be all bad if they can make things like this. And the story that the books in this exhibition tell is about people who were disadvantaged who found a way, and made something remarkable and beautiful and lasting, so it has a happy ending. 
---
The Sister Arts exhibition runs at the Thomas Fisher Rare Book Library, University of Toronto, January 23-April 28, 2023.  
There will be a free tour of this exhibition by its curator at 5 pm on Thursday March 2nd. No RSVP required, simply meet at the Fisher's exhibition area at 5pm on Thursday. The tour will last approximately one hour.